Surely, one of the large draws that photography has for me is the idea of getting to witness first hand that which others do not. I hate to say it, but its kind of cool to have a woman who has only been with one man in her life pose nude for me, to work behind the scenes of large public events and gain otherwise unattainable access to things like the Michael Jackson trial or weird Mexican wrestling events or adult entertainment sets, etc.
I've always wanted to know more than what I thought the average person did, which is probably why I've always gone out of my way to study as much background information, history, and origins of topics or events before I embark on any given assignment or subject matter. Subscribing to George Santayana's quote that "those who cannot remember the past are condemned to repeat it," I can't help but feel that there should be an addition to that quote. Perhaps, "those who aren't aware of the whole situation are doomed to misjudge it".
I often hear my dad's voice in my head saying "there are always two sides to a story", and that probably led to my geeky enjoyment of Paul Harvey's "The Rest of the Story". Its important to not only see the show being presented to the public, but also know about what it took to make that show come into being. More often than watching a movie, hearing a song, or reading a book, I am curious to know what the person creating those things was going through, what was the inspiration for it, what made them tick.
Perhaps as a creative person myself I know what it takes and am thus more intrigued with the back story than others. I've had friends who have said that it doesn't matter, to just enjoy the work created or event being witnessed, and though I can appreciate the moment, I am always left wondering and wanting more. Don't just show me the end result, take me on the journey that got you to that point. Don't show me the surface, challenge me with the depth.
Here are a few shots from behind the scenes that I enjoy:
First is from my very first photo shoot with a model, a 40 year old stripper who actually started out my career as an official photographer. During the shoot in a strange house up in the Ventura hills, as we waited for her 60 year old husband to return with more buckets of bubbles to throw on her. I have always enjoyed this image because it really shows how unglamorous photographing such a model really is.
Next is a shoot from a porn set, of a couple taking a break during shots. Again, fairly monotonous and boring, aside from her top being up and her pants open.
I love this shot, taken during Mardi Gras in New Orleans in 2003. Here a cop was hitting on a prostitute on a side street of the French Quarter as it began to rain again. As soon as the flash went off I hurried away as the officer yelled at me to come back. He must not have wanted to lose his place because he never followed me.
Here's is a very upclose and personal shot of Angelo Moore, the lead singer of Fishbone, one of my favorite bands, while on stage at a local club.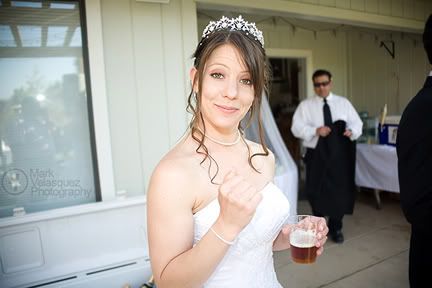 Lastly, one of my all-time favorite documentary shots. I was hired to shoot a wedding for a really fun, cool couple. During the course of the reception the bride went off on the Maid of Honor, making her cry. Here she makes a gesture of excitement knowing she has hurt her friend's feelings. Sheesh!