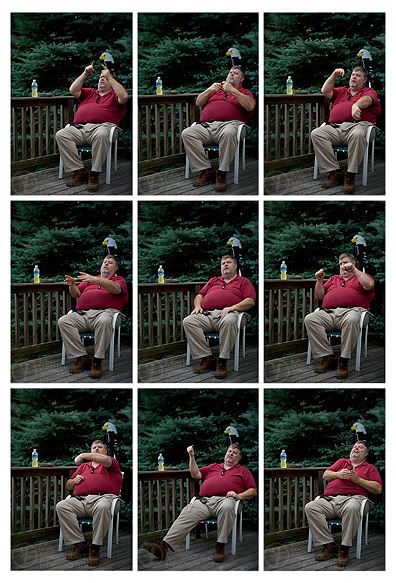 "Talking With His Hands" 2009
There are just so many great experiences that I could relay about this trip so far, I almost don't know where to begin. One of the truly great and probably most unexpected to many people would be my stop in West Virginia. I spent over three days there last week and am still trying to take it all in.
Mike Adkins, a photographer born and raised in Huntington, contacted me last year some time, one of the first people asking to be a stop along my cross country trip. He was hoping I could give a talk about my photography to his local camera club, of which he is president, as well as visit some of his favorite spots of the state, all of which sounded great to me. Little did I know just how great it would really be.
When I finally arrived late in the afternoon, Mike immediately made me feel at home with his extreme hospitality, openness, and excitement to have me there. While giving me a tour of the enormous house he had personally built from the ground up, he continued to reinforce his love of my work, repeatedly asking question after question. It was equal parts embarrassing and amazingly flattering. He has lived enough life for three lifetimes, is an entrepreneur, family man, jack of all trades, Vietnam Vet, and seems to have the respect of everyone he knows.
There are simply too many highlights of the time spent with Mike Adkins and his friends, so I will just touch on a few. First off was our lunch at Hillbilly Hot Dogs, a favorite lunch spot that has been featured on the Food Network and has it's very humble origins starting in a local dilapidated bus off a back highway. They specialize in food challenges, like this monstrosity called "The Home Wrecker", which if eaten in under twelve minutes gets the unlucky connoisseur a free "I Eat Home Wrecker" t-shirt. The dare devil in this case was a twenty-nine year old named Clint, though I had to have him pronounce it at least twice to understand what he meant when saying "Cleent". Just FYI, he ended up taking home about a four inch portion that he couldn't get down. I encouraged his friends to tease him mercilessly about it, of which they very willingly indulged me.
Next was the dinner and photo talk for the camera club. Most of the members are nature photographers from the Huntington area, so I was unsure of how my work was thought of. Originally Mike had assured me that there were a lot of fans of my work, but as the start of the party neared I got a sense that it was going to be a much more "guilty until proven innocent" type of situation. Everyone was of course polite and welcoming, but I did feel a bit of pressure since all they knew about me was my work. The sense of hesitation from them was palpable, and instinctually I found myself stepping up my wit, charm, and self-deprecating jokes to diffuse the situation. I was pleased to find that all the men there, like me, are Eagle Scouts, which immediately gave me a bit more credibility in their eyes. Then, my mentioning and showing pictures of my nieces, along with my continued referencing of my close family ties, helped my standing with most of the ladies. By the time we were done eating I felt confident that my work was finally being understood in the vein of irony and thoughtfulness that I intend, instead of just as pseudo-pornography. Thankfully though, there was a range of opinions present, from one woman I clearly could not convince that I was not a horribly despicable person, to a nice guy who thought I was the coolest dude around. I enjoy both types of opinions for various reasons.
The day after the party Mike took me up to the peaks of the Appalachian Mountains where he and his brother share a cabin with a few friends. Over the next two days we toured various natural wonders, from Black Water Falls, pictured above, to Seneca Rocks. At Dolly Sods, a lovely outcropping of rocks overlooking the entire Canaan Valley, we had quite the adventure fishing his GPS unit from out of a deep crevice as we balanced ourselves on the tenuous, jagged position. It sounds weird but the teamwork and ingenuity required in that hour or so was a whole lot of fun to me.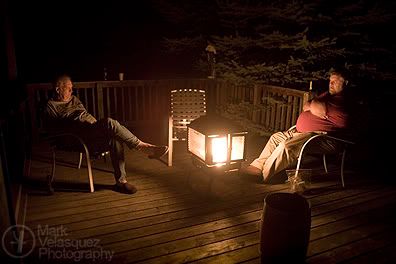 Lastly, what probably was the most fun of the entire time in West Virginia was also the simplest. After eating dinner in town, we drove back up to the cabin to hang out with his older brother. Roger is a fun loving, deep thinking, passionate and sincere guy, the kind that seem to be in increasingly short supply these days. He is pure West Virginia, likes to drink, smoke, and tell stories. When we showed up the cabin was pitch black due to a freak power-outage. Although I was really looking forward to a shower after the intense day we had survived, the electric pump from their well was obviously out of order as well and thus thwarted my desires. So, instead we opted for sitting out on the front deck. Mike and Roger made a fire, we drank whiskey and homemade cherry schnapps from a neighbor, ate junk food, and just shared hilarious, personal, and unbelievable stories from each of our lives. We talked politics, religion, sex, and food. I had mentioned several times that day just how exhausted I was from not only my two constant weeks of traveling but from all the exercise I'd gotten recently, and yet I didn't want the night to end. Finally, around 2AM or so as the fire died down, I excused myself and for the sixteenth night in a row fell asleep in a bed that was not my own. In the morning I felt refreshed, renewed for my next big adventure.
All of my friends and family have made jokes about West Virginia whenever I have mentioned it, the same "white trash/inbred/redneck" jokes that I'm sure everyone tells. Only when you go somewhere and truly experience the place and it's people, deciphering what is stereotype and what is not, can you really talk about it. I can honestly say that I will defend West Virginia and my new friends there from now on, knowing both it's limitations and it's grandeur. Thanks Mike.