(or "What is it about Mexicans and Borders?")
Here's another long tale of my trip...
Leaving the lovely and talented
Katie West
in Toronto around 8am, I headed off to Lansing, MI as fast as I could to meet up with a fun model named Leyna. While Neff was with me a few days previous, we had crossed the US/Canadian border in Maine/Nova Scotia with little to no hassle. Since we had gotten through even though Neff had forgotten his passport, I didn't expect much of a problem this time since I had all my important paperwork. To remain consistent with the previous twenty seven days I'd been traveling, I took photos of the "Welcome to Michigan" sign while driving across the bridge that eventually led to the official border guard post. After waiting in line for a while, when it was my turn the guard gave me a hand sign to stop where I was in line rather than advance like everyone else. After a few minutes of being confused, I was relieved when he finally waved me forward. I shouldn't have been.
When I pulled up, the officer looked far more stern and no-nonsense than the previous guards I had dealt with. The first things he asked were for my ID and if I had taken photos "coming in", to which I answered "no" because I thought he meant coming into the border post. He immediately put on that authoritative "gotcha" tone of voice, saying they had surveillance footage of me taking photos on the bridge and asked for my truck keys and for me to "stay put." While trying to remain calm and in good cheer, I complied without hesitation.
He walked behind my truck and got frustrated when he was unable to open the latches on my camper shell. I yelled out which key it was to unlock it, and after rummaging through my various suitcases and duffle bags, he came back to his kiosk, still with my passport and keys in hand, slammed the door closed and got on his walkie-talkie. I watched nervously as he mouthed heavily articulated words for several minutes before he wrote something down. He came out, handed me a slip of paper, along with my passport and keys, then directed me to pull off to the side for further inspection. My heart began pounding unsteadily.
My dad always says if you've got nothing to hide you should feel confident when questioned by the authorities. In this case that gave me very little comfort. I parked where directed, being greeted by three other agents, and was told to leave my phone and all my other belongings in the truck except for any identification papers. Inside I stood amongst several Canadians, East Indians and Germans talking in various languages, guessing that they were saying all the frustrating, nerve-racking things that were on my own mind. I finally looked down at the slip that had been handed to me. On it was written "Two points: Check out his story. Women's clothes in bags." Uh oh.
When called, I was greeted by a new investigating officer who looked younger than the last, about twenty five years old. His demeanor was slightly more relaxed and jovial than the previous agent's, the difference being the same between a glacier and an iceberg. He asked me several questions about where I had just come from, where I was going, where I had been, etc., often asking me the same questions over again in different order, obviously in hopes of tripping me up somehow. Unfortunately, it seems the more answers I gave, the more questions he had:
"Why are you driving across the country shooting models? Who are these women? Is this a hobby or a business? How could you take a month off of work? You work in a restaurant? I thought you just said you were a photographer? How can you afford this? How long were you in Canada? Why were you in Canada a few days ago and are now back? Why are you on the move every other day? Traveling alone? Who was with you?" And on and on. I remember jokingly telling him that even though my way of life might sound a bit weird to him, even some of my closest friends don't get it. No reaction. Uh oh again.
I was still fighting a cold that started last week, hadn't really slept well since then, and was feeling the strain of being gone so long from home these last few days. All of this only added to my confusion over exact dates and times on the road, which of course added to their disbelief of my story. I showed my business cards, offered to go grab my journal with polaroids from my fully documented trip and more. They reviewed my websites, then Neff's website, then our TomsTakeOut.com site, all in an attempt to catch me up on some lie. I was asked to sit down and then come back up to the counter to answer more questions about four times over the course of the hour, along with being asked to go out to my truck to retrieve my camera and any cash I had in the vehicle. When I went outside, supervised of course, I almost laughed at seeing the entire contents of the back of my truck being rifled through by two men wearing latex gloves. I can only image what they were thinking while sorting through the odd combination of clown noses, a straight jacket, various styles of panties and knee high socks, my dirty laundry and lighting equipment.
At some point I was informed that taking photos while on the bridge was illegal and that I had lied to the original border officer. By this time the original agent was inside helping process other "offenders", and when I tried to say I misunderstood what he had meant, things got even more tense. I said that I had assumed that I was being asked if I had taken photos of the border post itself, which immediately prompted the original guard two stalls down to lean back and say defiantly "NO! I SPECIFICALLY ASKED HIM if he had taken photos on the bridge, and HE SAID 'NO'!" Upon saying this he immediately returned to what he had been doing and didn't look back at me the rest of the morning. I started to feel a bead of sweat trickle down the back of my neck, which if seen by them would have confirmed any last doubt of my guilt.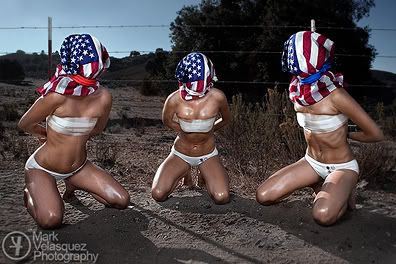 My young inquisitor, obviously a military man, began shuffling through the business cards I had provided him, and when he got to my "American Justice" image, he looked at me quite frustrated. "You think its okay to put American flag hoods over the heads of half-naked women?" he asked angrily. I hesitated for a moment debating the repercussions of my possible answers, then I finally just said "Um...yeah." His silence and look of disdain told me I was treading on thin ice. We reviewed together the ten or so images on my camera that were taken on the bridge, mainly various wide and narrow shots of the Michigan sign with the scaffolding behind it. I offered and he commanded me to delete those images, but I refused to delete the whole CF card like he originally suggested. He said "You've heard of September 11th, right?", which I all but ignored. When I brought up that there were no signs saying it was illegal to take photos on the bridge, he ignored me right back.
At this point I had been there about forty-five minutes and could feel myself getting much more frustrated and vocal with this guy. My patience was dancing on that fine line between defending my rights and not sounding like a confrontational ass. In a moment of clarity I smiled to myself, remembering the blog I'd written wondering what kinds of authority figures I would have to have patience for on this trip before I left.
Finally, after sitting back down for another few minutes, he called me back up to his counter, saying that I was in fact guilty of lying to a border officer, which is a federal crime. He was giving me the benefit of the doubt because the rest of my far-fetched story checked out, handing me back my edited camera and passport. Lastly, he got out a slip of paper and wrote three words I was very happy to see: "Free to go." I handed the slip to the officer guarding the door, got in my truck and left.
I realize it is better to have our border be too secure than not enough, so I'm trying not to hold a grudge, and I'm not. That said, not only did they cost me an hour of my drive, but later in the afternoon I found that they had cracked the rim of my ring flash, a $500 studio light. Again, the flash is still functional and fine, so not that big of a deal. At least it is a great story to tell and I'm sure I will retell it for years to come, but from now on I will definitely be far more cautious when entering or leaving a border. Sheesh.