Woo-boy. This one's a long one.
The last month or so has been controlled by a busy, complex series of emotions in this little noggin of mine. I guess the same can be said for most people, but sadly all I can know for certain is what happens within me, which is what this whole blogging thing is supposed to be about, I guess. Though one would think my preoccupations would be easy to figure out, the least of these emotions are based on my month long trek across this great country of ours this coming June. That being said, making preparations to both put my "regular" life on hold for a month, and also planning to explore alien territory while relying on the kindness of virtual strangers, has been no easy task.
Suffice it to say, whenever I do seem to be busy getting ready for something big in my life, I will often actively seek out more projects and obligations to complicate my life further. Over the past few years I've met several people who also take on more projects the busier they are, so thankfully this doesn't make me feel like the complete mad man that it used to. So in the last few weeks, on top of the usually light work load at the Take Out and prepping for my travels, I've taken on a few unexpected photo shoots, gone on short weekend trips to Fresno and Los Angeles, started a six foot long commissioned painting that I said I would finish before I leave, and lastly, helped create the first official Tom's Take Out eating challenge.
The "Triple Quad Challenge", as my brother titled it, began simply enough. A couple of weeks ago a 6'3", 360lb. man named Brandon Howe came in and ordered one of our new quadruple patty cheeseburgers, bragging soon after woofing it down that he could easily consume three of them. Sensing a bit of a braggadocious nature about him, a quality I've never been too fond of in people including myself, I humorously said that if he could eat three, along with three large bags of french fries in under twenty five minutes, I'd buy it for him personally. If not however, not only would he have to deal with failing to meet his goal, he'd also have to pay the almost thirty dollars that the meal would cost. This caused an immediate reaction of excitement and inspiration from my brother and dad who began cheering him on. Within minutes we all figured out the terms of the official agreement and made preparations for the call from Mr. Howe telling us of the first Saturday he would be free. Once we got the nervous call this last Monday, the wheels began a-turnin'. For most of the week there seemed a pretty good chance he'd back out, so the passion for making concrete plans was definitely lacking. By Thursday however, with his coworkers excited and egging him on, we finally were convinced that he was going to show, and that's when the excitement, and pressure to host, finally began to heat up.
As usual, it was a family affair. I was of course in charge of designing the promotional posters and making several trips to the dollar store for decorations and props. My sister-in-law was in charge of getting the word out to the media, stealing moments at work to e-mail local radio stations and newspapers. My brother pitched the idea to every customer that came in, and even my dad provided a nice galvanized bucket, that I eventually spray-painted gold, in case of any last minute regurgitation on the part of our participant. Lastly, my mom provided all the necessary worry and concern for the lot of us, as usual. All of this took place while we also got ready for my nieces' third birthday party, which was the night before the eating challenge. As I said above, we like to complicate things.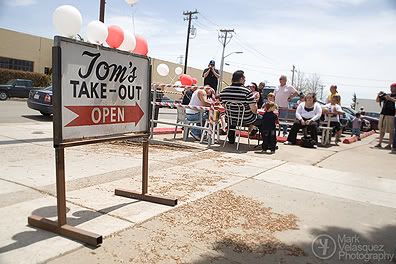 So finally the day arrived. After another last minute series of visits to the store, the decorations were in place and the nervous anticipation set in. At 1pm the contestant showed up, wife and two young kids in tow, while about twenty five spectators awaited the unknown. Just as we had positioned him outside and dad was about to start cooking, a last minute Mexican customer named Joe said he was willing to have a shot at it, too. The more the merrier!
I cleared a spot for him at the table we had set up outside, had them both sign the liability release forms I had drawn up the day before, and with megaphone in hand, I incited the crowd to cheer them on. At 1:11pm, the first official Triple Quad Challenge began. Joe, standing up in some vain attempt to have a better digestive ability, began tearing into the meal, while Brandon, who had obviously much more time over the course of the week to mentally prepare for the struggle, began slowly and methodically chomping away. The crowd's reaction was a mix of excitement, disdain, nervousness, curiosity, and disgust. I wouldn't have had it any other way.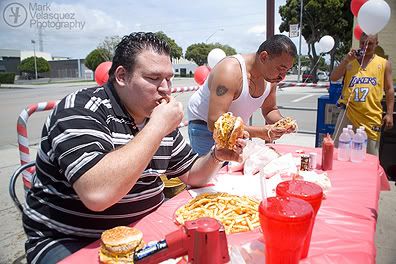 My whole family was there, my mom watching the spectacle with a sincere smile on her face as my nieces ran around, corralled by my sister-in-law and our friends. I was the ring master of the events while my dad, brother, and his god-daughter took care of actually keeping the place operating as the affair took place. Ten minutes in, the zeal with which the participants had started the challenge had quickly changed to a nervous, obvious concern, as they both handed each other napkins and each had a look in their eyes that can only be described as "Dear God, what have I gotten into?"
About that same time a reporter and a photographer from the Santa Maria Times showed up to cover the event. I answered all of their questions, giving a brief overview of the Take Out's history and the origin of the the day's activities, all while calling out time updates to the candidates. It should be no surprise to those who know me to say I was completely in my element. I love those kinds of situations, which definitely make me miss my old performance art days back in college, which I'm sure I'll mention here in a later installment. Soon after my little interview, I looked over to see Joe placing the golden bucket on the table, which I hoped wasn't a foreshadowing of nauseating moments to come.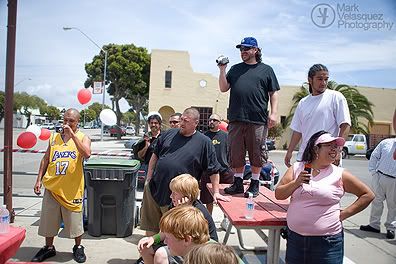 With a little less than ten minutes to go, the first real signs of quitting had begun. Brandon began giving his wife little shakes of his head that he wasn't going to be able to finish. Joe was sitting with his eyes closed and his head down, silently giving a thumbs up whenever someone shouted out a call of concern. Five minutes to go, they were essentially done. Brandon had all but given up, yet Joe, God bless him, kept taking smaller and smaller bites of his second quadruple cheeseburger, placing a lonely fry in his mouth now and again.
By the time I blew the final whistle, with the crowd giving them one last round of applause, both contestants looked pretty haggard. All of the promises we had made to them if they had finished, like naming the burger after them, giving them free food for a month of Saturdays, etc., were thankfully null and void. They both were whipped and they knew it. All that was left was putting their money where their mouth was, literally.
Yes, its a pretty silly thing to do, not only to participate in such an event, but just to have the challenge in the first place. I'm reminded of all of the spectacles and odd events that were popular during the Great Depression, keeping the struggling people occupied with any kind of entertainment possible to take their minds off of the realities of life. I sincerely doubt that things are that bad right now, but I also know that people are definitely looking for a distraction from their troubles. Maybe we helped a little bit in that department for a day.