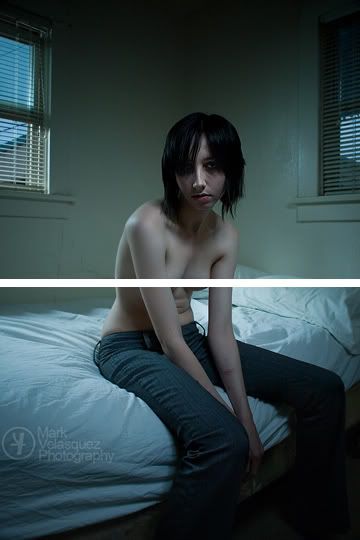 I decided to bookend this blog with two photos taken in the exact same spot, the edge of my bed, with completely opposite intentions. I'm a guy who loves duality, what can I say?
To quote the singer/songwriter Sting, "I promise I'm not a manic-depressive." After rereading several of my blogs and Flickr posts of late I had to stop and take a deep breath, realizing I sounded like such an Emo whiny baby. Actually, for the most part I like to believe myself to be a fairly focused, level-headed kind of guy. That being said, I figured it was time to post a blog that wasn't so negative or deep or over-analytical.
At the start of each new year I fall into the cliché of hope: hope for a new perspective on life, new beginnings, new career opportunities and maybe even new relationships of various kinds. I'm aware that the change of digits and numerals on a wall calendar or on your phone is really quite arbitrary and all in our minds, but this is me at my most optimistic.
WHAT I LIKE:
I like pretty flowers, making faces at both smiling and crying babies, warm tomato soup on cold days, old quirky movies like "Harold and Maude", a clean camera lens, drinking wine with friends and whiskey with strangers, meeting like-minded people in places I've never been before, meeting close-minded people on tough days, and listening to mopey, thoughtful, romantic music. I enjoy an almost-cold bottle of water, clean sheets, lukewarm showers, pretentious people who aren't aware of how silly they are, children asking questions, natural light, and dark, shocking humor that is witty enough for me to want to repeat. I like honesty, sincerity, politeness that isn't always nice, your concern without your worry, care without pity, and being speechless in the face of a truly wonderful surprise.
Your sweet, genuine smile.
I like music old and new, both bad and good, slow and peppy, whiny and soulful. I like quiet movies with intricate plots as well as watching things go "cracka-cracka" while a faulty hero does his best.
I like you. No, not you, the person behind you.
I like me, and I think you would, too, if you got to know me. I like not being liked though, also. Being liked by everyone is just boring, don't you think?
Anything else you want to know, feel free to ask.
And...FIN.